The British School of Barcelona celebrates "Global Be Well Day", a groundbreaking initiative promoted by the education group Cognita to raise awareness about the importance of physical and emotional wellbeing
On the 27th September, The British School of Barcelona joined "Global Be Well Day", a unique worldwide event created and promoted by Cognita, the education group of 75 schools of which BSB is a member, along with over 45,000 students in 9 countries in three continents, to participate simultaneously an entire day focused solely on wellbeing.
"Starting the Day on the Right Foot"
The children, teachers and parents at BSB started the day off on the right foot with an event that brought together over 1,300 participants in an attempt to break the Guinness World Record for the most people hopping on one leg in the school's recently inaugurated rugby pitch. The school was grateful that two of our city's most cherished figures agreed to come along to encourage the children: Luis Suárez and Lionel Messi of Barcelona FC did the countdown to begin the world record-breaking hop.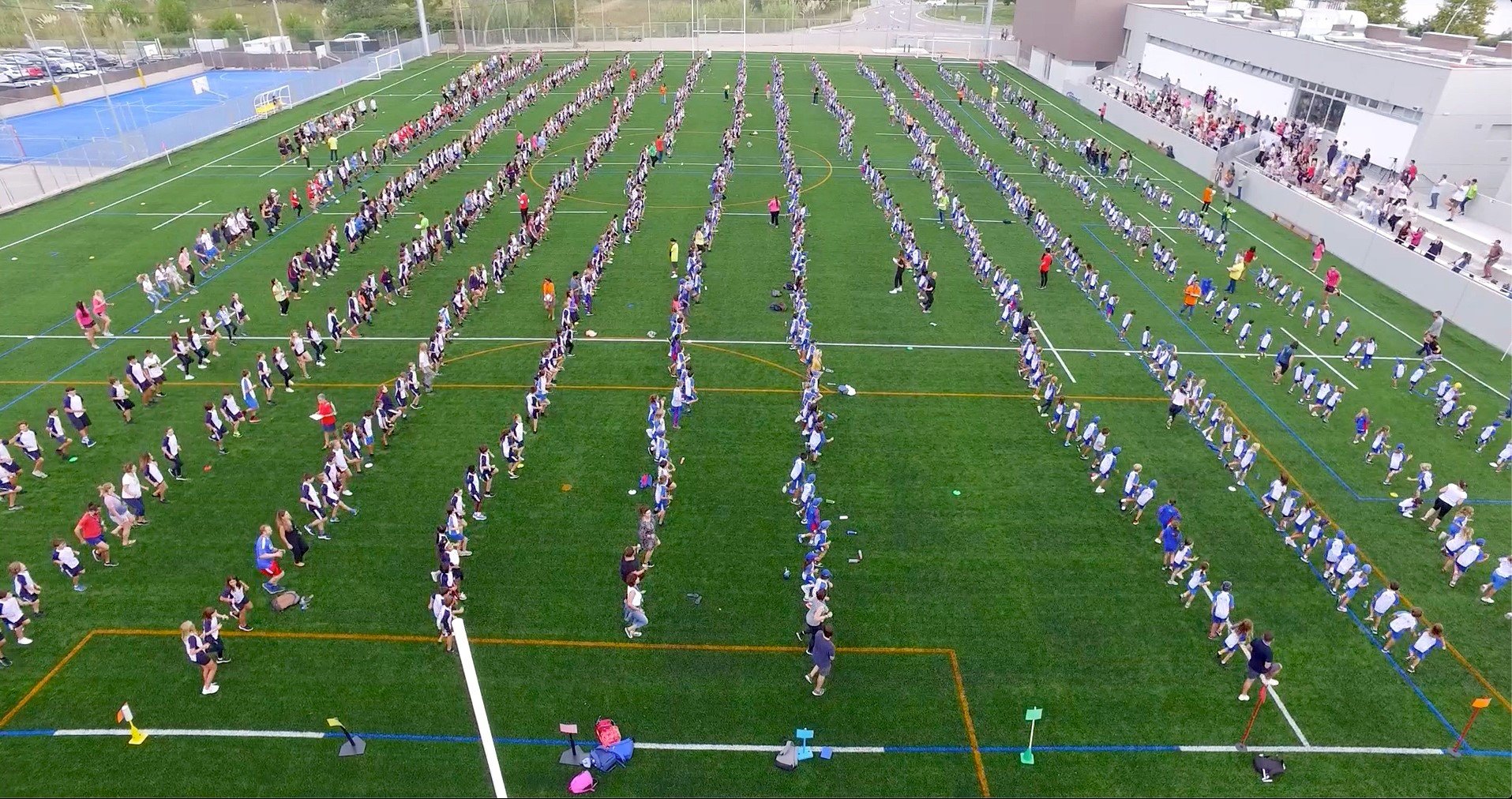 The event was also attended by Cognita representatives, such as Björn Robens (Cognita Board Director, Partner of BDT) and Germà Rigau (Cognita Spain's Manager Director) and from the Castelldefels' town council: María Miranda, Mayoress, and Fernando Cerpa, councillor for Public Works and Maintenance, Activity Licences, and Senior Citizens, among others.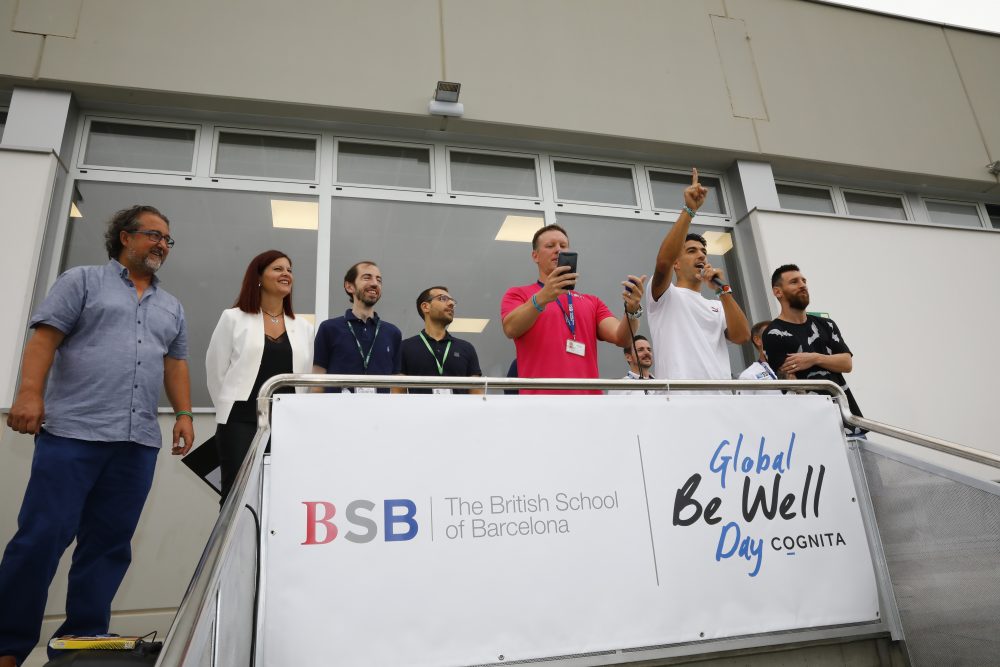 Over 50 different activities focused on wellbeing
Throughout the day, a range of indoor and outdoor activities focused on the physical, mental and spiritual wellbeing took place: beach walks at dawn, yoga, Tai Chi and meditation workshops, talks about emotional intelligence, body image, philosophy, communication and mindfulness, as well as sport activities, healthy breakfasts and snacks, with over 175 BSB families participating.
The mental health and wellbeing of young people is one of the most pressing issues of our times around the world. Thanks to the "Global Be Well Day" initiative, this is the first time that a school in the province of Barcelona dedicates an entire school day to raise awareness within its community (students, teaching staff and parents) about the importance of physical and mental wellbeing and the positive impact on the student's personal and academic growth.
A fantastic initiative open to the whole school community
Parents, teachers and students alike regarded the event as "a fastastic experience for everyone!". A parent agreed about the importance of wellbeing in a child's life: "I think that if your child is in balance and feels well emotionally, they are capable of everything, because when they believe in themselves this reflects on everything in their daily life."
At the end of the day, the students reflected about their wellbeing and how the school can support:
"Wellbeing is being happy and feeling good about yourself, and having a balance between social life and school. The school can help by talking about it and helping us in difficult situations." Secondary Student.

"Wellbeing is achieving the right balance between mind, body and soul. You need physical, mental and spiritual wellbeing to be fully supported; without one, the other two crumble down. School can help by providing you with an environment where you can develop all three types of wellbeing and where you can reach out for help if you need anything if one of them is not working out." Pre-University Student.
PHYSICAL – MENTAL – SPIRITUAL WELLBEING

"Global Be Well Day is just the beginning"
"Global Be Well Day is a celebration of the wonderful work that happens at school to support our students, our families and our staff to be physically healthy, mentally healthy and spiritually healthy.

"We all have ups and we all have downs in our lives. Educating our students with wellbeing is so important because we are equipping them with the life skills to be able to face the challenges that are thrown at them in life.

"Today, as exciting as it has been, is simply a marker in the sand; it's what happens after today that is the most important thing: what happens in our classrooms, what happens in our playgrounds, in our work with our families. This is just the very start of something, and ensuring our students and our adults who work in our schools have the right skills to keep them physically, mentally and spiritually healthy." Heather Bell, Headteacher of BSB Sitges.
"The physical and the academic parts are intrinsically linked"
"We live in quite stressful times and I think especially for young people, since expectations for them are increasingly high, whether these are in terms of the jobs they are going to do or the exam results they are going to get.

"As a school we sometimes separate the physical from the academic, but the two are totally intrinsically linked. If you are well physically, you do well academically and for our school of course that's the ultimate.

"Knowing how you work best and feel best is the secret of success." James Petrie, Head of Secondary and Pre-University, BSB Castelldefels and BSB Nexus.
"To be able to cope with the demands of tomorrow's world"
"Mental wellbeing affects all areas of a person. The main benefits of mental wellbeing are to improve focus, the learning ability and the general wellbeing of students. Students who develop skills such as resilience, creativity, flexibility and determination will be empowered to be able to cope with the demands of tomorrow's world in a very complex and changing world that we live in today." Carol Coleman, Designated Safeguarding Lead, Bsb Castelldefels and BSB Nexus.
"We help students understand who they are and who they can become"
"It's important that when we look at wellbeing that we focus on spiritual and the spiritual dynamics of all of us as individuals: Who am I, who am I to you and who am I to the wider world. These are important questions that we must be asking, and we must be encouraging our students to explore. You are helping students understand who they are and in knowing who they are, they start to see who they can become and what they can, therefore, achieve." Andy Burns, Wellbeing Mentor, BSB Castelldefels and BSB Nexus.
Related links:
#CognitaBeWell on Instagram
#CognitaBeWell on Twitter