New re-vamped issue. This is just one of the changes readers will find when they browse through the 2020 publication of NEXT Magazine, a student-initiatied CAS Project which started back in 2018 and has seen its third issue edited and released in confinement.
Overseen by Vicente, a BSB Pre-University student who is graduating in June, the magazine is the result of a collaborative work process where a number of Year 12 students have invested their weekly CAS sessions to plan, research, develop and write news and feature stories this year. In Vicente's own words: "I would like to take the opportunity to express my gratitude to all my team, who have made this issue possible. This includes Jamila, Kate, Vika, Anna and Taina. Thanks to them, this issue has fresher topics and a clean new design. This issue relies much less on articles and much more on creative content conceived by us, which in my opinion, is an improvement."
This year's issue has been challenging and this gives the team still more credit. Fresher ideas, changes in layout and design, technical problems with software… and then lockdown! But they managed and they did it: "If you are reading this, it means we overcame it. And I am very proud of that", the Editor says.
All in all, a comprehensive CAS experience where students have been able to identify their own strengths and abilities, undertake challenges whilst developing new skills in the process, show commitment through regular and active involvement, demonstrate engagement with issues of global significance and consider the ethics of choices and actions in planning and carrying out their CAS project.
And it's an amazing piece of work, indeed, featuring research articles on HIV cure, Venezuela and climate change, an interview with a Vogue model, the latest fashion and style trends, a wellbeing section dealing with mental health (of so much significance these days), and a few additional interviews with key BSB Nexus students and staff… Who? Well, that's for you to find out! Happy reading!
Note: due to current lockdown the NEXT Magazine, issue 3, is not endorsed to a fundraising campaign for charity, unlike previous years.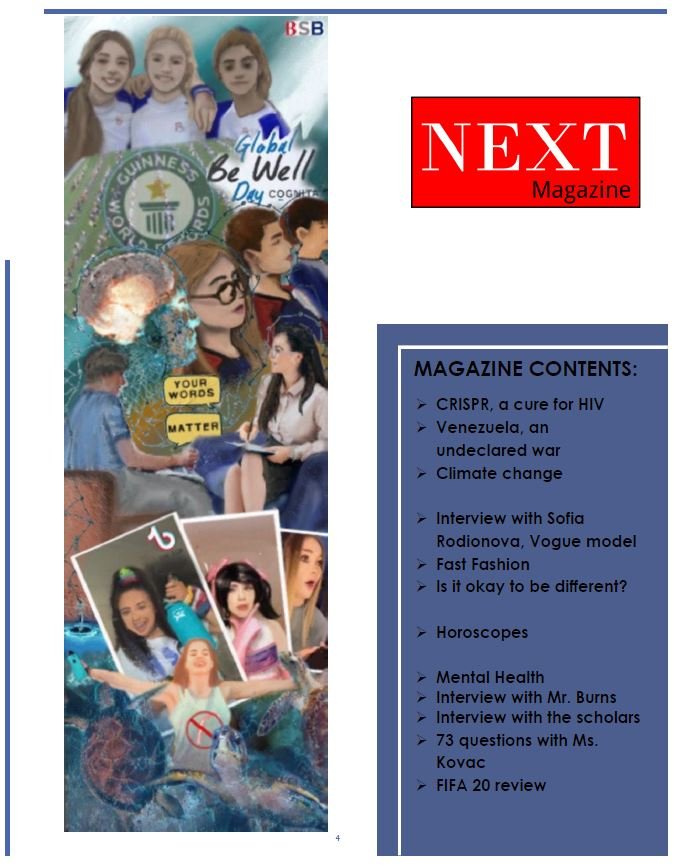 Related links: