Global Be Well Day is a whole school community event which focuses solely on wellbeing to support our groupwide focus on the spiritual, physical and mental aspects of the wellbeing of children and adults.
On Global Be Well Day, BSB and every Cognita school around the world collapse the curriculum for the entire day with activities and events involving the entire school community of students, staff and parents.
27th September 2019
Guinness World Record
Our Guinness World Record on first-ever Global Be Well Day was a huge achievement of the whole BSB community joining together for a common goal and a milestone in the history of BSB and Cognita to raise the profile of our collective commitment on mental health and wellbeing as a global family. Watch video.
25th September 2020
Be Well Charter
Emotional wellbeing and mental health is at the heart of the culture and ethos of BSB and Cognita and indeed the Covid-19 pandemic in 2020 only intensified this position. For this reason, we felt that this year our GBWD celebration would require a more introspective approach and as such we designed projects for students to explore their feelings in this day and age.
In 2020 our GBWD reinforced the contributors to physical and mental health outlined in our new Be Well Charter – Sleep, Diet, Exercise and Connecting, Doing and Giving. 
The Cognita Active World Challenge
Launching on GBWD 2020, the Cognita Active World Challenge (CAWC) was a global activity to help our school communities around the world be active and connect. Starting on the 25th September, BSB students, parents and staff have 4 weeks to travel as many kilometres as possible.
Being Active supports all six of the key contributors to wellbeing, but especially being active and connecting!
At BSB our aim was to travel 11,000 kilometres to connect with Colegio Manquecura in Chile, and we did it. Our totals were around 16,000 km. Awesome!
30th September 2021
Empathy
In 2021, our annual global celebration of wellbeing will explore the mental contributors of our Be Well Charter —connecting, doing and giving.
At BSB we will do this through the lens of Empathy, with student assemblies, a carousel of activities and parent webinars, all designed to explore what empathy is, why it is important and how we can set the stage for children to grow into kind, empathetic adults.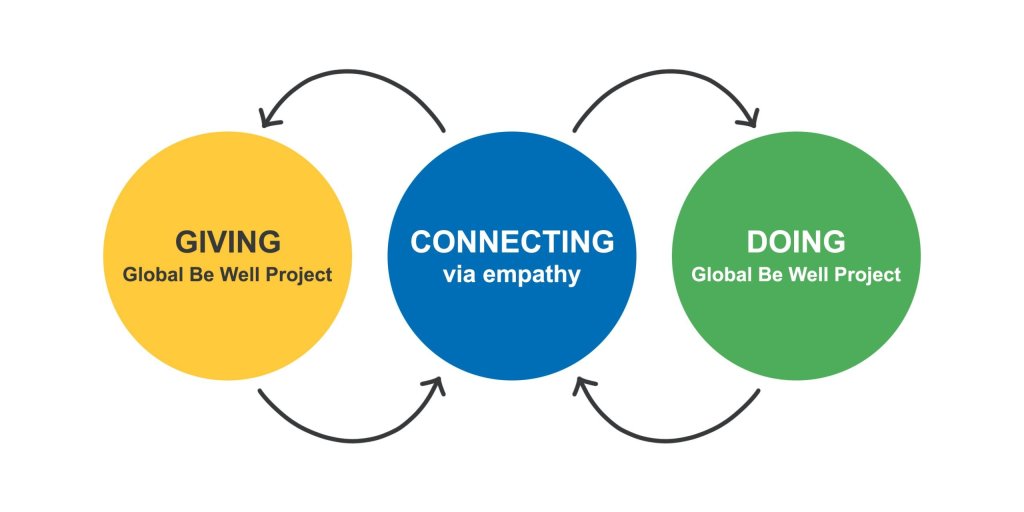 See our Gallery: Global Be Well Day 2020