BSB, one of the best international schools in Spain according to EL MUNDO
For another year in a row, The British School of Barcelona has been listed among The Best International Schools in Spain by the prestigious national newspaper "El Mundo".
EL MUNDO has just published the twenty-third edition of the list of the Best Schools in Spain. This ranking of schools is a benchmark in the Spanish educational sector as well as a perfect guide for families with school-age children.
The 23rd edition of the special 100 SCHOOLS includes a selection of 160 schools divided into three categories: the 100 best schools, notable schools and international schools. BSB is included as one of the 30 best international schools in Spain and is one of the only four best international schools in Catalunya.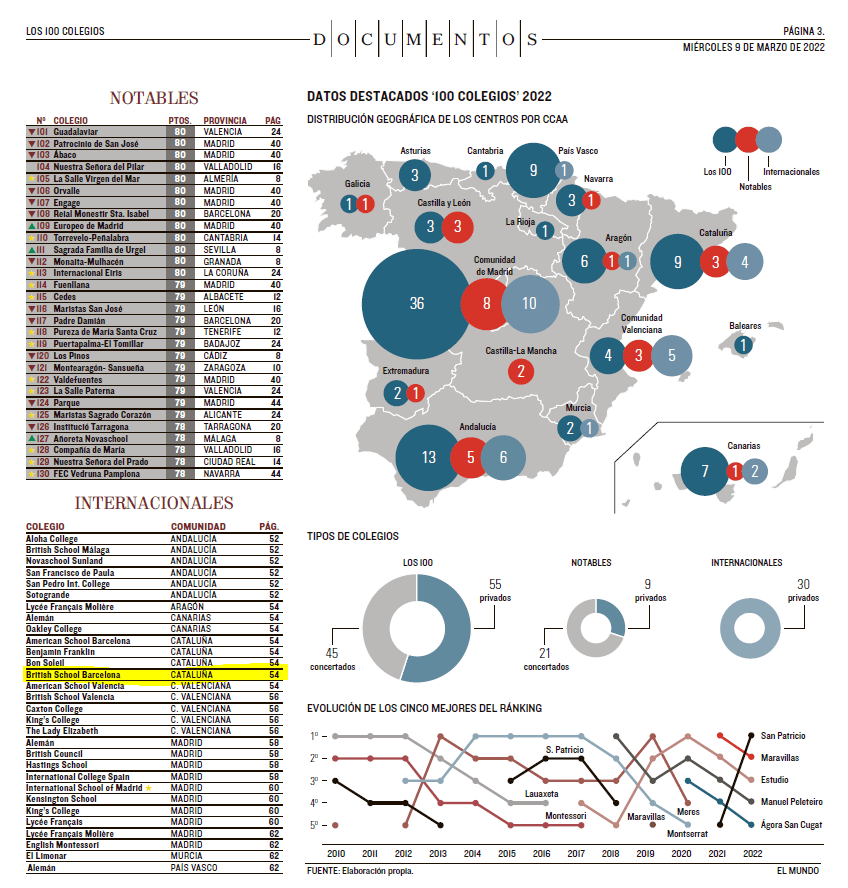 This list is a most selective independent ranking in which nearly 1,000 schools are evaluated against 27 exhaustive criteria of excellence. According to the EL MUNDO Ranking team: "This classification is the result of a rigorous and totally free journalistic study: none of the participating schools has paid for inclusion in the ranking or for their position".
The 27 criteria analyse the educational model, facilities and resources of each school. The BSB report covered areas such as our provision of world-class education, results of official students' examinations and second-to-none careers guidance, outstanding inspection reports and accreditations (such as the BSO inspection and the Wellbeing Award for Schools), quality standards, teaching staff, languages taught, ICT and Science resources, provision of learning support, sports facilities, co-curricular and after-school activities, medical service, nutrition and school transport, among others.
Our listing highlights some of our latest achievements in terms of expansion: "Part of the Cognita group, the school does not has stopped growing in recent years to cover its great demand for places. In September 2021, BSB opened a new campus in the city of Barcelona for Early Years and Primary. BSB City main campus will open in September  2023 for all educational stages. In addition, in October, the school opened a new BSB STEM Centre for the study of Science, Technology, Engineering and Mathematics in Castelldefels. With state-of-the-art facilities, the new centre facilitates innovative and flexible education methods for Secondary and Pre-University students."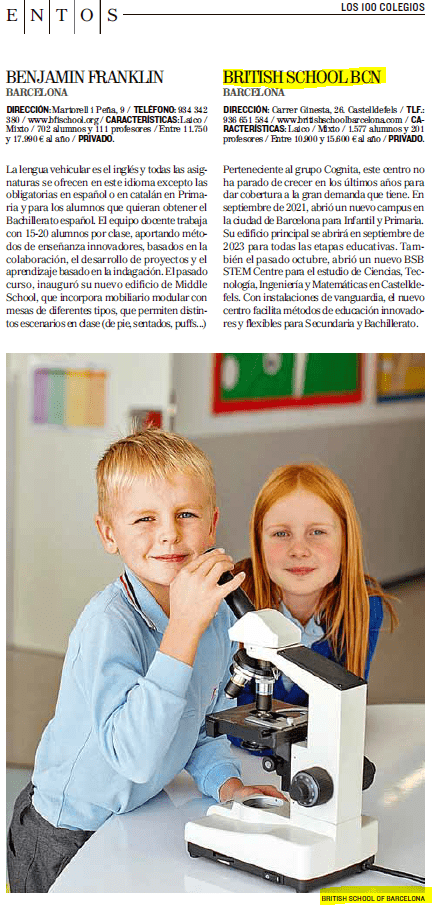 We are proud to share that other six Cognita schools in Spain have also been shortlisted in this ranking: Hastings School and The English Montessori School (TEMS) in Madrid, British School of Valencia and El Limonar International School Murcia also as Best International Schools, with Colegio Internacional Meres ranking sixth amongst the best 100 schools in Spain and Colegio Europeo de Madrid (CEM) as one of the 30 most Remarkable Schools in Spain.
Back to Category